Product List
3D Monitor
3D Synchronizer Monitor
3D View finder
3D Synchronizer View finder
3D Non Glasses View finder
3D Rig
3D Window
Synchronizer Convertor
Download Center
3D LCD MONITOR: G240R
[Discontinue]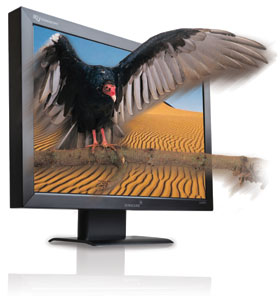 3D Stereoscopic Lcd Monitor
Key Features

MIRACUBE MFX 3D Engine :


MIRACUBE MFX3D Engine supports Frame Sequential, Side by Side, Top & Bottom and Interlaced formats. The MIRACUBE MFX Engine is built in to provide a powerful & active 3D display. No requirement for extra hardware or software.



World's largest 3-D solution line-ups :


Miracube has a complete 3D solution for a variety of industries. Miracube has 3D monitors, 3D filming equipment and 3D projection systems.
Switchable between 2d and 3d :


All of our monitors can be switched between 2D and 3D simply by pushing a button.A second 2D monitor becomes obsolete. Just use the 3D mode for your stereoscopic 3D content, and switch back to 2D for all your normal 2D applications.



High resolution and wide viewing angles :


Our monitors offer high resolution images - also in 3D! And a unique filter technology allows for extra wide viewing angles for multiple viewers and comfortable viewing. Passive glasses let you enjoy also long viewing periods and eye-fatigue a thing of the past.



Eco-technology AL case:


The Recyclable aluminum case is environment-friendly



A certified system for a global market :


Our monitors have CE, FCC and MIC certifications. Every 3D monitor of ours complies with ROHS regulations



Range of applications for our 3D display solutions


Design Visualization : Architecture ,Machinery ,Building ,Product Design
GIS Data Visualization : GIS ,Environment ,Landscape ,Urban Design
Medical/BIO Visualization : Biology ,Medical Science ,Life Science ,Chemistry
Product Presentation : Automobile ,Heavy Industries ,Aviation/Ship ,PR/Exhibition
Model Name

G240R

Screen Size

24.1"(61.32cm)

Stereoscopic Type

Passive Polarization (Glasses)

Panel Type

TFT Color LCD

Stereo Format

Sidefield, Frame Sequential, Top and Bottom

Angle / Tilt Angle

2D : 178˚, 3D : 6˚ (Center, VD:60cm) , Tilt Angle : 15˚

Brightness

150cd/m2 (Center of Screen)

Resolution

2D:1920X1200, 3D:1920X600

Display Color

16.7 million

Contrast Rate

1000 : 1

Responding Speed

5ms(G to G)

Stereoscopic Display Function









2D/3D Switchable
Left/Right Reversion
Adjustable Separation
Input Image Format Selection
Aspect ratio(1:1, 4:3, 16:9)
PIP-2D, PIP-3D
Audio (Stereo, Optical)
3D territory window(Part 3D)


Input

HDMI ×2, DVI, HD-Component, HD-SDI, Audio(Stereo,RCA)

Output

SDI (Loop), Audio (Stereo, Optical)

Input Signals




Audio IN (2CH Analog, Digital with HDMI)
SHD-SDI, Audio OUT (2CH Analog, Optical)
Video signal (VESA, EIA-861B, SMPTE, NTSC, PAL)


Size



With Stand :1100 * 710 * 250mm
Without Stand :1100 * 660 * 100 mm

Weight

12.5 kg

Accessories

Remote control 13key,3D Glasses, Manual, Power Cable

Warranty

1 Year